It doesn't take much to deny Him. Ask Peter. We see him after the passover meal skulking around a fire,  countering his true identity and affiliation. This is the same man who said before anyone else, "You are the Christ, the Son of the Living God" This is the one who was bold enough to get out of the boat. This is the man of ambition whose words were always three steps ahead of his heart.
But he's not alone. I, too, deny Him. I am quick to laugh with the crowd.
I, too, am quick to change my tune to match the beat of the clamorous cosmos.
I, too, allow my passions and my ambition to spin wildly out of control. I doubt His judgment regarding my life. I die on the wrong altar.
I, too, curse more vehemently and emphatically to preserve my own shadow mission.
But still He remains.
I don't understand this kind of grace that covers my wrong thinking and illogical fears. And the struggle continues– my gangly, strutting, dodging, frenetic activity. But it is no match for His dogged pursuit. The Creator of love runs after me with profound determination.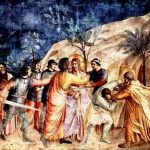 Finally, after running from the truth, breathless, weary, I am mess to behold, And He is there.
This is not a soft-rock, falsetto kind of love, filled with flowery fragile words. This driving anthem of truth echoes wildly into the valleys of my rebellion and sallies forth with light and victory into the abyss of my futility.